What is Morse Code?
A method of transmitting texts or string of characters using different sound.
It is firstly developed by Samuel F.B Morse and his colleagues.
The most commonly used one is International Morse Code, it includes ISO basic alphabet and some Latin characters etc

The rules of Morse Code
The duration of the dash is 3 times of dot.
Each dot of dash is followed by the blank period which equals to the dot duration.
Space between letters is 3 dots duration.
Space between words is 7 dots duration.
The most frequently occurring letter has shorter expression than others. (E has only one dot)
This is one of the devices used to send Morse Code during WW2.
The signal is on when pressed, off when released.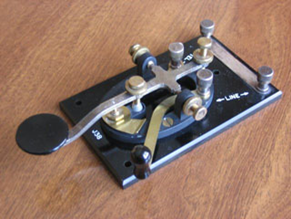 Uses of Morse Code
Useful in terms of telecommunication sending emergency texts. ( SOS, consists of 3 dots and 3 dashes followed by 3 dots).
Used as Radio Navigation in Aviation.
Helping people with disabilities to communicate.
Different Ways of Transmitting
As radio signal.
Sounds like car horns.
Mechanical or visual signals(pulling a rope, flash lights)
Speed of Transmitting
Because there is not a certain time for a unit in Morse Code, so the operator is one who is determine the speed of transmition. Several Ways of Determine the speed
Paris and Codex. Assuming a common character length is 5 letters long.
T stands for unit of time. W stands for speed in wpm(words per minutes)

Exercises
Convert the following sentences into Morse Code (use _ for spaces)
Hello everybody
Enemy attack at dawn
I love you
Answers
Answers to Previous exercises
…. . .-.. .-.. — _ . …- . .-. -.– -… — -.. -.–
. -. . — -.– _ .- – – .- -.-. -.- _ .- – _ -.. .- .– -.
… _ .-.. — …- . _ -.– — ..-